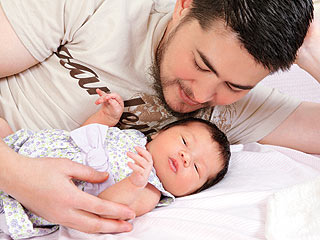 It's been three weeks since his blue-eyed baby debuted in this world, but Thomas Beatie – better known around the world as the Pregnant Man – can already say this about his daughter's personality: "She's easygoing and mellow and intelligent."
On June 29 at 8:55 p.m., Beatie, 34, a former female beauty pageant contestant, made cultural history as perhaps the first legally transgender male to give birth, bringing into the world a 9 lbs., 5 oz. baby girl named Susan Juliette.
"She's so precious, I just can't stop staring at her," Thomas tells People magazine in his first interview since he and wife Nancy returned with their bundle from Bend, Oregon's St. Charles Medical Center. "Just holding her is the best feeling in the world."
Read the full story
here
.